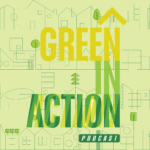 Welcome to the Green in Action podcast! In each episode, host Kimberly Vermeer, President of Urban Habitat Initiatives, shares stories of green leadership in affordable housing. Listen for a preview of some of the voices telling the stories of green achievements on the pod: Guy Kempe, Jane Carbone, Tara Barauskas, Ray Demers, Gerardo Brambilla, Bryan Dove, Michelle Apigian, Anne Torney, and Walker Wells.
Topics discussed:
Climate resilience
The meaning of sustainability
The importance of developing equitable communities and healthy buildings
Trailer Transcript
KIM VERMEER: Climate change and housing affordability are challenges that seem overwhelming, and even more so when we try to address them together. And yet, there are people and organizations rising to that challenge every day.
I'm Kim Vermeer, a green building practitioner and the host of Green in Action, a podcast where we'll celebrate these stories of green leadership in affordable housing.
On the podcast, we'll be talking to green leaders who're rethinking the meaning of sustainability:
GUY KEMPE: The most sustainable approach to revitalizing our urban core is to keep our existing building stock from going to the landfill.
JANE CARBONE: When I talk to the residents, everyone loves living there. We had a vision and we achieved that vision. It became a reality.
KIM VERMEER: We'll discuss tools that empower green leaders to do their best work…
TARA BARAUSKAS: We are sort of the conductor of the orchestra is the way I like to think of it.
RAY DEMERS: I would describe integrative design as a collaborative, problem solving approach that tries to wrestle both with how decisions are made, but also why decisions are made.
KIM VERMEER: We'll hear how they grapple with living into their values by building equitable homes…
GERARDO BRAMBILA: My parents really liked the idea of the net zero energy, like not paying as much on the electricity bill.
BRYAN DOVE: Our main mission and focus is the residents and giving them the tools to be leaders in their community
MICHELLE APIGIAN: We've just got to get this thing open so these families can move in. What can we do to get this done so that they can get into this healthy building?
ANNE TORNEY: The fact that very low-income folks get to live in a healthy building and a deeply performative building is a form of justice!
KIM VERMEER: And we'll consider how green buildings spark broader change in our communities…
WALKER WELLS: In what way could this building function as a resilience hub for the broader community and not just be a safe place for the residents, but a place of refuge for other people in the community?
KIM VERMEER: The Green in Action podcast is a place where we can learn from each other and create a community that's committed to advancing equity through sustainable, resilient, and affordable housing.
Join us by subscribing on Apple Podcasts or following us wherever you get your podcasts! You can find us on Twitter @UHIPodcast and at urbanhabitatinitiatives.com.
Together, we can tackle climate resilience and housing equity. I can't wait for you to join us.