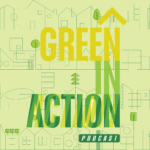 Season one of the Green in Action podcast is a wrap! Wondering what you missed? Tune in for host Kimberly Vermeer's recap of the first season of the show. Kim reflects on season one's stories: making net zero work for residents and redefining sustainability in rural New York State, why the integrated design process is crucial to developing sustainable, equitable communities, an Enterprise Green Communities deep dive, Cambridge developers who did it all during a pandemic, a conversation with Dana Bourland about her new book, Gray to Green Communities: A Call to Action on the Climate Crisis, and housers in New Mexico tackling community displacement head-on.
Hear again from some of the voices telling the stories of green achievements on the pod: Bryan Dove, Gerardo Brambila, Guy Kempe, Ray Demers, Walker Wells, Krista Eggers, Michelle Apigian, Jane Carbone, Dana Bourland, and Daniel Slavin. Thank you for listening – we're excited to share these vital stories with you!
Topics Discussed:
The importance of resident engagement in operating a functioning green building
Net Zero Energy
The Integrated Design Process
Enterprise Green Communities 2020 Criteria
Finch Cambridge
Gray to Green: A Call to Action on the Housing and Climate Crises
Systems Change
Climate Resilience
Community Displacement
Resources:
Addressing the Climate Crises with Green Housing For All – Island Press Webinar
Blueprint for Greening Affordable Housing, Revised Edition
Enterprise 2020 Green Communities Criteria
Gray to Green: A Call to Action on the Housing and Climate Crises
Connect with Us!
Season One Recap Transcript
KIMBERLY VERMEER: Well, we did it! The first season of the Green in Action podcast is complete. The Green in Action podcast is your space to celebrate and learn from the successes and innovations of green leaders in the affordable housing field.
Let's look back at the show's first season…
KIMBERLY VERMEER: Creating green housing doesn't end when construction is done – buildings exist in real life with real people. What do you do when there's a disconnect between green performance aspirations and resident realities?
GERARDO BRAMBILA: So I remember one day we all got together, and we were like, "what's going on? Like these bills are so high." Like it was just so confusing. It was not what we expected it to be.
BRYAN DOVE: What we heard were residents say, "hey, we have high bills, you told us it will be low bills. What's going on? Help us."
KIMBERLY VERMEER: In our first episode, "Net Zero: Making it Real for Residents," developer Mutual Housing California learned from experience about the importance of resident engagement. We spoke to staff and resident youth leaders about what it took to make the ambitious net zero multifamily development successful for everyone who lives there.
BRYAN DOVE: And so as housing developers, if we can make it very easy for residents to live there and be energy efficient, then I think we're going along way.
KIMBERLY VERMEER: Green building comes in all shapes and sizes. But there's a common misconception that green building is a big-city urban thing. In our second episode, the upstate New York housing developer RUPCO proves otherwise.
GUY KEMPE: I think that there's been some real recognition of the values we bring to our projects throughout the Hudson Valley. I think that communities, if they don't demand that we do green buildings, they should. And I think they know that.
KIMBERLY VERMEER: Through their leadership, RUPCO reimagines the definition of sustainability to include rural communities. This episode, "Net Zero Heroes," follows RUPCO's growth into a green organization through three ambitious green projects, from historical preservation to a net zero community hub.
KIMBERLY VERMEER: When you apply ambitious green goals to the affordable housing field, you end up facing complex challenges. A top down, siloed planning approach can lead to big mistakes being made.
But there is a better way!
If you ask most green housing practitioners, they'll tell you that the integrated design process is crucial if you want a successful outcome of truly sustainable communities.
RAY DEMERS: I would describe integrative design as a collaborative, problem solving approach that tries to wrestle both with how decisions are made, but also why decisions are made.
KIMBERLY VERMEER: In our episode "Getting into Integrated Design," we spoke to a planner, developer, architect, and policymakers about that process and how to make it work in practice.
WALKER WELLS: I think integrated design is,its intent is to look at all of those component parts and identify how they can cooperate with each other to produce a building that's better for the environment, but probably equally, if not more importantly, better for the residents.
KIMBERLY VERMEER: There are a lot of moving parts that make following an Integrated Design Process difficult. For this episode, our "Minisode Deep Dive: Integrated Design in Enterprise Green Communities," we spoke with Enterprise Community Partners National Initiatives staff about how their program makes the process more accessible.
KRISTA EGGERS: I think integrative design is the core of green communities, and I think that if you can succeed in embodying an approach to integrative design in your project, you can succeed with your project, period.
KIMBERLY VERMEER: Zooming in on the Integrated Design category of the 2020 Criteria, this episode outlines a step-by-step process for practitioners to engage people to identify shared priorities.
KIMBERLY VERMEER: But what do you do when your priorities are…everything? In the next episode, "Not for the Birds: Deep Green at Finch," we learn what it took to build Finch, the largest new construction affordable housing development in Cambridge, Massachusetts, in 40 years.
MICHELLE APIGIAN: We've just got to get this thing open so these families can move in. What can we do to get this done so that they can get into this healthy building?
KIMBERLY VERMEER: Homeowners Rehab and Icon Architecture were able to achieve three major certifications – Passive House, FitWel, and Enterprise Green Communities – and build and open the project despite the pandemic!
Through collaboration and an integrated approach, they were able to create a healthy and resilient project aligned with FitWel – and navigate the energy performance and tight building envelope required by Passive House.
JANE CARBONE: When I talk to the residents, everyone loves living there. It's such a happy place for them. And I think that, we had a vision and we achieved that vision. It became a reality"
KIMBERLY VERMEER: Climate change doesn't impact every community equally, which is why resilient and sustainable affordable housing is so vital.
DANA BOURLAND: That's what's so extraordinary to me about the moment that we're in, is that the people who have had the least to do with the housing and climate crisis are indeed the ones who are paying for it the most.
KIMBERLY VERMEER: When it comes to green building, it's crucial to consider these interconnections. Our episode "Moving Beyond Green Buildings with Dana Bourland" focused on Dana Bourland, and her new book, Gray to Green Communities: A Call to Action on the Housing and Climate Crises.
Systems thinking is critical to move away from obsolete housing that extracts from our collective well-being.
DANA BOURLAND: Not only are we connected to one another, but together we can do so much more. We can make a quantum leap in averting both the dual crisis of climate change and housing affordability in one fell swoop from gray to green.
KIMBERLY VERMEER: In the season finale, "Sustainable Homeownership: Transforming Communities" we hear how Homewise, leaders in New Mexico, rose to meet the challenge of a persistent housing shortage. In New Mexico, the tourist industry makes it difficult for locals to buy homes – whole communities end up getting pushed out.
DANIEL SLAVIN: We believe in creating homeownership to help people build sustainability and wealth. We've used home ownership as something in Santa Fe where rental rates have just skyrocketed in the last 10 years. And the best economic stability you can have in this town is to own your home.
KIMBERLY VERMEER: And that's a wrap for Season One! It has been a thrill to develop and produce the Green in Action podcast, creating a place where we can learn from each other to advance equity through sustainable, resilient, and affordable housing.
Catch up on season one and be the first to know about season two by following us wherever you get your podcasts! You can find us on Twitter @UHIPodcast and at urbanhabitatinitiatives.com.
Together, we can tackle climate resilience and housing equity. I'm so glad you've joined us.